Over the past few months, I have been asked this question by two different people. One is a senior at Ke Kula Kaiapuni ʻO Anuenue and the other, a friend. The student had decided to write about lei niho palaoa as his senior project and the friend just happened to ask this during a discussion with her family about various Hawaiian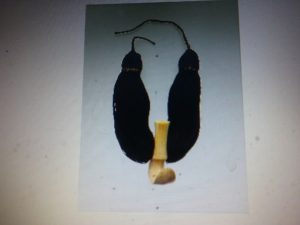 topics one evening that I was invited to.  They both referred to the carved niho palaoa and not the  ʻōpuʻu stye worn primarily by the Oʻahu chiefs.
The student was taught, and the friend had read, that this lei was worn only by ali'i (chief/chiefess), the carving indicated a tongue, and this signified the wearer's authority to speak on behalf of the people. I replied that this must be a modern interpretation.  While growing up, I was taught by my grandmother, Mary Kawena Puku'i, that yes, only ali'i were permitted to wear this lei, and yes, the carving was in the form of a tongue, but, what it means, what it signifies, is DEFIANCE!
Besides this coming from a most credible authority, let's consider why this makes sense. It's already a given that ali'i speak with authority anyway, whether or not they are wearing their lei niho palaoa. In Hawaiian custom, the sticking out of the tongue on the battlefield or in any kind of altercation would cause the receiver(s) to become enraged and highly insulted,  It would be like turning your back, bending over and exposing your 'okole to the enemy.  Some of our ancient sculpture display a protruding tongue and its projection of power, authority and defiance are unmistakable.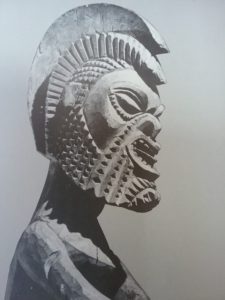 When you see our Maori cousins do their haka with eyes open wide and their tongues sticking out, are they conveying, "I stick out my tongue to signify I have the authority to speak, or is it clearly a message of defiance? One of their primary weapons, the tiaha, is carved on one end to represent their tipuna (kupuna) and when faced towards the enemy, one sees the eyes and tongue of their ancestor, ready to strike down the foe.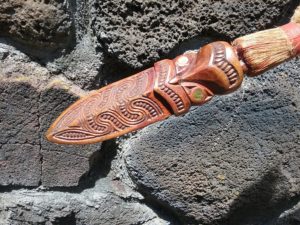 A few years ago, I attended Lā Kūpuna (Grandparents' Day) at one of our Hawaiian immersion schools.   It was a very nice event with the keiki introducing themselves and grandparents in Hawaiian and singing and dancing.  At the end of the program, the keiki did sort of a nursery rhyme in Hawaiian, pointing out and naming various parts of the body.  The last part was the ʻālelo (tongue) and they ended with sticking out their tongues at those in attendance. I'm sure it was meant to be cute, but it really wasn't, if you know our culture.  If older generations or other Polynesians were there, they would be, at the very least, surprised that our keiki would openly defy their kupuna.  This comes about by not knowing our culture.  Even the western culture recognizes children sticking their tongues our at peers or adults as being defiant and unacceptable behavior. I'm sure what the keiki were taught wasn't meant to be offensive, but those who read this, especially the teachers, are now aware and perhaps should inform others and act accordingly in respect for our culture and to those who came before us.  Ua pau.
(This is offered as educational information for those who may be interested)